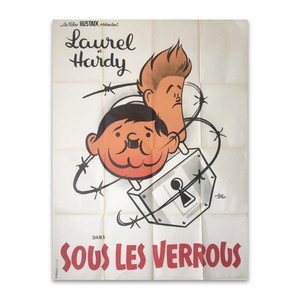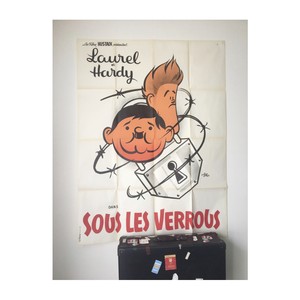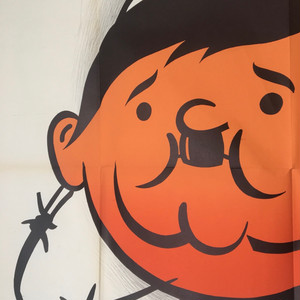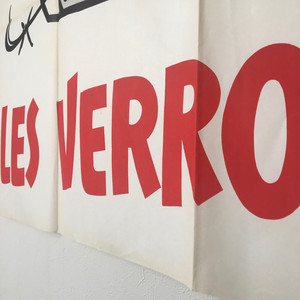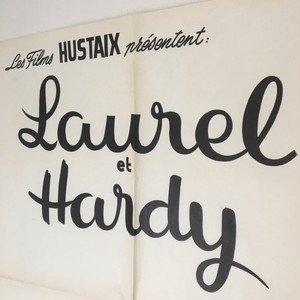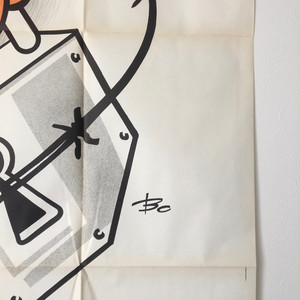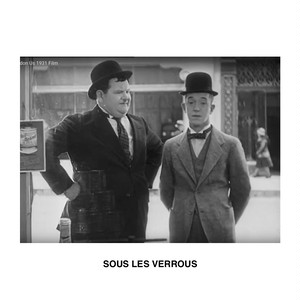 ヴィンテージのフランス映画のポスター 「SOUS LES VERROUS」|Vintage French Movie Poster "SOUS LES VERROUS"
パリの閉館した映画館から買い取った貴重なヴィンテージ・ポスターです。
「SOUS LES VERROUS」は、1931年にリリースされたアメリカのコメディ映画「PARDON US」のフランス版です。
スタン・ローレル&オリヴァー・ハーディ主演、ジェームズ・パロット監督、初期の頃の音声付きモノクロフィルムです。

孔版印刷によって表現されているため、とても味わい深い印象です。

一般には、赤・青・黄色・黒の4色のインクを掛け合わせて様々な色を表現します。
それに対して、孔版印刷は、表現したい色のインクを調合してその色そのものを刷ります。
印刷された色の深みは全然違うものになります。

また、人物の顔がグラデーションになっているのは、孔版印刷では難しい表現で、非常に凝った作りをしてると言えます。

サイズは、GRANDEとよばれるラージ・フレンチ(47×63インチ)のポスターです。
フランス版のポスターは、ほとんど折りたたまれて保管されます。
この折り目がついたまま飾ることにもまた、味わいがあると思います。

是非、何もない白い壁に貼ってみてください。とても格好良いです。


材 質:紙
サイズ(約):W1200 D1600mm
原産国:フランス
送 料:無料
商品箱:なし


*小さな磁石をマスキングテープで壁に貼り、ポスターの上からも磁石で挟んで留めると、壁にもポスターにも穴を開けずに飾ることができます。
*折りたたまれています。
*古いもののため、日灼け、紙の折れなどがあります。折り線が一部切れているところもあります。


【配送について】
*1度に複数の商品を購入された場合、1個分の送料となります。
 その場合、商品のサイズ/重さに合わせて、こちらで配送方法を変更させて頂くことがございますが、追加料金がかかることはございません。


【ギフトラッピングについて】
*プレゼント用に有料でラッピング致します。詳しくは、こちらをご覧ください。
https://www.sensitivityandboldness.com/blog/2020/11/23/134608


▶︎その他の「VINTAGE & COLLECTION(紙)」アイテム
https://www.sensitivityandboldness.com/categories/3018827



-----
Old Cinema Poster 「SOUS LES VERROUS」

A vintage poster for an old movie.
"SOUS LES VERROUS" is a French version of the American comedy movie "PARDON US" released in 1931.
Stan Laurel & Oliver Hardy starring, director James Parrott, early black and white film with audio.

Because it is expressed by stencil printing, the impression you receive before this poster is very impressive.

The general printing method expresses various colors by combining four ink colors of red, blue, yellow and black.
On the other hand, stencil printing mixes the ink of the color you want to express and prints that color itself.
I don't think you can see the difference, but if you look closely, its goodness is completely different.

The red letters in the title are painted as if they were drawn by hand.
The gradation of the person's face is a difficult expression in stencil printing and can be said to be very elaborate.

The size is a large French (47 x 63 inch) poster called GRANDE.
French posters are mostly folded and stored.
I think that it is also good to decorate with this crease.

A valuable poster purchased from a closed cinema in Paris.
Please put it on an empty white wall. It 's very cool.


Material: Paper
Size (approx.): W1200 D1600mm
Country of origin: France
Price: ¥ 15,000 (tax included)
Shipping: Free(Japan Only)


*By sticking a small magnet on the wall with masking tape and holding it on the poster with a magnet, you can decorate the wall and the poster without making holes.
* It is folded.
* Because it is old, there are sunburns and paper breaks. Some fold lines are broken.

* If multiple items are purchased at one time, shipping fee will be charged for one item. (Japan only)

(オリジナルポスター、輸入ポスター、宣伝ポスター、アンティーク、ビンテージ)
*Tax included.
*Additional shipping charges may apply, See detail..

About shipping fees
The shipping fee for this item varies by the shipping method. Customers can choose the shipping method at time of purchase.
ヤマト宅急便80

伝票番号で配達状況を確認できます。配送日時の指定にも対応。配送時破損の補償有り。

Shipping Fees are the same all over country inside Japan ¥1,110

ゆうパック80

伝票番号で配達状況を確認できます。配送日時の指定にも対応。配送時破損の補償有り。

Regional setting
EMS(1000)

Regional setting

Afghanistan

Bangladesh

Bhutan

Brunei

Cambodia

China

Guam

Hong Kong

India

Indonesia

Laos

Macao

Malaysia

Maldives

Marshall Islands

Micronesia, Federated States Of

Mongolia

Myanmar

Nepal

North Korea

Northern Mariana Islands

Pakistan

Palau

Philippines

Singapore

South Korea

Sri Lanka

Taiwan

Thailand

Timor Leste

Vietnam

Australia

Christmas Island

Cocos (Keeling) Islands

Cook Islands

Fiji

French Polynesia

Kiribati

Nauru

New Caledonia

New Zealand

Niue

Norfolk Island

Papua New Guinea

Pitcairn

Samoa

Solomon Islands

Tonga

Tuvalu

Vanuatu

Wallis and Futuna

American Samoa

Anguilla

Antigua and Barbuda

Aruba

Bahamas

Barbados

Belize

Bonaire, Sint Eustatius and Saba

Canada

Cayman Islands

Costa Rica

Cuba

Dominica

Dominican Republic

El Salvador

Grenada

Guadeloupe

Guatemala

Haiti

Honduras

Jamaica

Martinique

Mexico

Montserrat

Netherlands Antilles

Nicaragua

Panama

Puerto Rico

Saint Barthélemy

Saint Kitts and Nevis

Saint Lucia

Saint Martin

Saint Pierre and Miquelon

Saint Vincent and the Grenadines

Sint Maarten

Trinidad and Tobago

Turks and Caicos Islands

U.S. Virgin Islands

United States

Virgin Islands, British

Bahrain

Cyprus

Iran, Islamic Republic Of

Iraq

Israel

Jordan

Kuwait

Lebanon

Oman

Palestinian Territory, Occupied

Qatar

Saudi Arabia

Syria

Turkey

United Arab Emirates

Yemen

Aland Islands

Albania

Andorra

Armenia

Austria

Azerbaijan

Belarus

Belgium

Bosnia and Herzegovina

Bulgaria

Croatia

Czech Republic

Denmark

Estonia

Faroe Islands

Finland

France

Georgia

Germany

Gibraltar

Greece

Greenland

Guernsey

Holy See (Vatican City State)

Hungary

Iceland

Ireland

Isle of Man

Italy

Jersey

Kazakhstan

Kosovo

Kyrgyzstan

Latvia

Liechtenstein

Lithuania

Luxembourg

Malta

Moldova

Monaco

Montenegro

Netherlands

North Macedonia

Norway

Poland

Portugal

Romania

Russia

San Marino

Serbia

Slovakia

Slovenia

Spain

Svalbard and Jan Mayen

Sweden

Switzerland

Tajikistan

Turkmenistan

Ukraine

United Kingdom

Uzbekistan

Argentina

Bolivia

Brazil

Chile

Colombia

Curaçao

Ecuador

Falkland Islands (Malvinas)

French Guiana

Guyana

Paraguay

Peru

Suriname

Uruguay

Venezuela

Algeria

Angola

Ascension Island

Benin

Botswana

Burkina Faso

Burundi

Cameroon

Canary Islands

Cape Verde

Central African Republic

Ceuta and Melilla

Chad

Comoros

Congo

Congo, The Democratic Republic Of The

Côte d'Ivoire

Djibouti

Egypt

Equatorial Guinea

Eritrea

Eswatini

Ethiopia

Gabon

Gambia

Ghana

Guinea

Guinea Bissau

Kenya

Lesotho

Liberia

Libya

Madagascar

Malawi

Mali

Mauritania

Mauritius

Mayotte

Morocco

Mozambique

Namibia

Niger

Nigeria

Reunion

Rwanda

Sao Tome and Principe

Senegal

Seychelles

Sierra Leone

Somalia

South Africa

South Sudan

Sudan

Tanzania

Togo

Tristan da Cunha

Tunisia

Uganda

Western Sahara

Zambia

Zimbabwe

Bermuda

Bouvet Island

French Southern Territories

Heard Island and McDonald Islands

Indian Ocean Territory, British

Saint Helena

South Georgia and the South Sandwich Islands

Tokelau

United States Minor Outlying Islands